BHUTAN: Spring, Summer, Fall 2016
Amazing Adventures in Bhutan.
At CHAMPACA JOURNEYS it's always time to hit the road. We hope we can entice you to join us, as it's our great pleasure to introduce our clients to the Bhutan that most visitors do not have the good fortune to experience. We want you to feel as awestruck by Bhutan as we feel and not to appear immodest, but we have a pretty darn good record of achieving this. CHAMPACA JOURNEYS' USA and Bhutan based tour operators have more than 30 years combined experience in Bhutan and we've seen tourism grow from tiny amounts to current numbers (which are still pretty small, as Bhutan wisely limits the quantity of visitors). What works to your advantage today is that hotels offer greater comforts and amenities than in the early days of tourism. Consequently your visit to Bhutan will be not only eye opening and interesting, but your nights will be spend in comfort and your meals taken in the restaurants where the food is both delicious and healthy. Our only complaint about Bhutan was that finding good coffee was difficult, and we've remedied this with the opening of CHAMPACA CAFE in Paro 2 years ago. We are proud to say that our clients include members of the Royal Family, numerous parliamentarians, many locals and travelers, and the pilots for Drukair, Royal Bhutan Airlines typically stop by the cafe on their way to the airport. We are honored to have all these people as clients.
A question we are often asked: when is the best season to visit BHUTAN? The general wisdom is spring and fall. Though we tend to disagree somewhat about this. The summer, considered the rainy season sees about the same amount of rain as New England, and substantially less than England. We actually prefer Bhutan in the summer months, and into December, hence all the journeys in this newsletter occur during ideal times of the year, in our opinion. The choice of when to visit Bhutan is more reliant upon your schedule than any particular season.
When you travel to Bhutan with CHAMPACA JOURNEYS we promise to show all the usual and fascinating sights, but we also have in our repertoire many other experiences; introductions to our Bhutanese friends, we'll arrange meetings with your professional counterparts if you wish, bring you to religious ceremonies not typically open to outsiders, show you the great places for live music, and have you meet the musicians. Come and enjoy a taste of BHUTAN with us, if you are like our past participants, you too will leave a bit of your heart in BHUTAN, and you just might want to return to recapture the special feeling that BHUTAN gave you. Let us introduce to a most remarkable kingdom.
June 9-22, 2016
Late Spring in Bhutan
WHY THIS TRIP?
Because Bhutan is bursting with wildflowers and the flowering trees are full of color.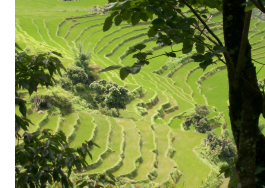 The countryside so verdant with lush forests and lusher fields of terraced rice. We begin this journey in Paro, then move east to Bhutan's capital, Thimphu where we visit museums, schools, artists studios and meet many interesting Bhutanese doing admirable deeds for their country. Then we continue to sub-tropical Punakha, to explore beautiful ancient fortresses, and for river rafting. Next we drive to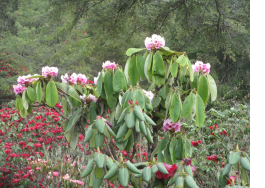 the impressive Phobjika Valley for 2 nights and then return to Thimphu and Paro, where a memorable hike to Tiger's Nest Monastery, Bhutan's most holy and iconic site gains you merit, as you share the trail with Bhutanese pilgrims. Throughout this journey we'll enjoy lovely weather, meet many of the Champaca Family and our friends, and provide you with amazing experiences and memories.
CLICK HERE FOR MORE INFORMATION
September 12-24, 2016
Late Summer in Western Bhutan
WHY THIS TRIP?
The Thimphu Tsechu, this religious festival is anything but a solemn event. The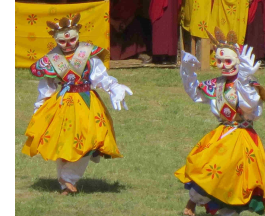 grounds of the 4 century old monastery/fortress where the tsechu is held erupt with pageantry and color, this is a spectacle not to miss, and we'll visit tsechu for 2 consecutive days. Costumed monks perform centuries old dances, all of Thimphu seems to attend this much anticipated and fun filled event. Thimphu also has much more to recommend it, and we'll ensure you do not miss the sights of this small but fascinating capital. Driving east from Thimphu we cross the high pass at Dochu-La with its 108 Chortens, and then descend into sub-tropical Punakha, where you'll raft along the river, explore old monasteries, meet with monks, and have private cooking lessons with one of Bhutan's best chefs.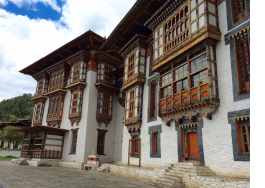 Our next journey takes us east to the high altitude Phobjikha Valley. The valley offers some unparalleled hiking and diverse scenery, as this broad glacial valley appears unlike other parts of Bhutan in appearance. Then we begin our return to Thimphu and Paro, for more sightseeing and to make the ascent to Tiger's Nest Monastery, Bhutan's most iconic and holy site. Along the way you'll meet our local friends and have experiences not easily forgotten.
CLICK HERE FOR MORE INFORMATION
November 4-18, 2016
Autumn in Bhutan
WHY THIS TRIP?
Black-necked cranes. Though you may not be a birdwatcher, most everyone seems
to be impressed with these 5.5 foot tall black and white birds as they stalk the floor of the spectacular Phobjikha Valley. These endangered birds breed in Tibet and return faithfully each winter to Bhutan, where their presence is revered by locals. The Royal Society for the Protection of Nature has set up an indoor observation post and here you can observe the cranes from telescopes. You won't miss other impressive sights in Bhutan on this journey; the drive though the virgin forest of the Black Mountains en route to Trongsa where you will have an opportunity to hike a portion of the ancient foot trail, once the only way across Bhutan. A gentle yet exciting float down the river in Punakha on a raft, enjoying the scenery of ancient temples, terraced villages, mountains and forest from the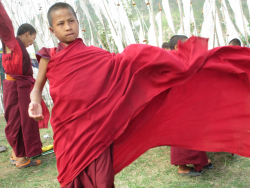 middle of the water. Hike to hill top monasteries and meet our monk friends for a discussion of their lives. Travel back to Thimphu for more sights, and its night life (yes, nightlife in Bhutan, great music, lively cafes and clubs), and then end your journey accumulating merit as the Bhutanese do in making the ascent to Tiger's Nest Monastery in Paro. As always, we will introduce you the the many members of the Champaca Family as you make your journey across Bhutan.
CLICK HERE FOR MORE INFORMATION
If these dates are not convenient for you, we are happy to customize a trip for your desired length of time, number of people, and your specific interests. BHUTAN, LAOS and CAMBODIA are all our specialties.
josh friedman luxury travel
in san francisco
415.987.0372 | joshfriedmantravel.com
an independent affiliate of travel experts | a virtuoso agency
facebook twitter flickr you tube
four seasons preferred partner
Josh Friedman is an old-fashioned travel agent offering highly personalized 24/7 service. Specialties include high-end and bespoke luxury travel for small groups and individuals. His areas of expertise include ultra-luxury cruises, customized vacations & luxury hotel stays. He also plans spectacular honeymoons, anniversary and birthday celebrations and completes trips that clients have started and just can't quite figure out how to finish.
His relationships built over twenty years with the world's top hotels, cruise lines and local agencies will ensure your successful vacation. As a client you get exclusive and complimentary perks that you can't get on your own